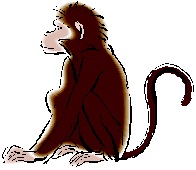 Be careful with overworking this month, easpecially towards the end. This is a steady month of progress and the Monkey has the opportunity to enjoy quality time with those around them. Wealth luck is good and as long as you work within your means, you can safely put your investment plans to work. However busy you are, do not neglect family life or friends. You have further good months to look forward to as well.
To further enhance 2012 take a look at your 2012 annual animal predictions and also the 2012-flying star (Xuan Kong) as you will need to follow the advice carefully to ensure a trouble free year in 2012. You can place your annual cures and enhancers at any time of the year after February 4th 2012.
For protection you should have a key chain pendant of a Snake with you at all times.
Your lucky sector is the West-Southwest (232.5º – 247.5º) of the home