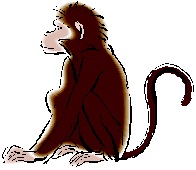 March is a time of progress for the Monkey; try to begin the month by writing a list of things you wish to accomplish throughout March as you will may find yourself acheiving a lot in the coming month, just remember to be reasonable in your goals. March is a good time for the March to give their home a new look but please be careful to check with the Annual Flying Star Analysis for 2012 and also the monthly Flying Stars to make sure that you are not decorating or renovating in a bad area. Make the most of this month by getting what you want and March can turn out to be a great month for the Monkey.
To further enhance 2012 take a look at your 2012 annual animal predictions and also the 2012-flying star (Xuan Kong) as you will need to follow the advice carefully to ensure a trouble free year in 2012. You can place your annual cures and enhancers at any time of the year after February 4th 2012.
For protection you should have a key chain pendant of a Snake with you at all times.
Your lucky sector is the West-Southwest (232.5º – 247.5º) of the home or office.