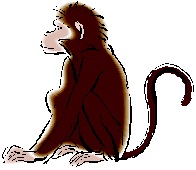 Overall it should be good month if you take care and take my advice. One issue that you should be aware of are accidents involving metal and usually this will involve cars or knives. Having good Feng Shui is actually being aware of potential problems and adjusting the month or year to avoid potential problems. So my advice this month is be very careful when driving or using knives, so if you know any Monkeys warn them of potential dangers.
There will possibly be doors opening that you thought had closed a long time ago, the most important thing to remember is to spot a good opportunity when it comes and do not overlook the small print of any offer. Be careful of what you eat this month as there are chances of stomach problems involving dirty food or shell fish so please be careful.
To further enhance 2012 take a look at your 2012 annual animal predictions and also the 2012-flying star (Xuan Kong) as you will need to follow the advice carefully to ensure a trouble free year in 2012. You can place your annual cures and enhancers at any time of the year after February 4th 2012.
For protection you should have a key chain pendant of a Snake with you at all times.
Your lucky sector is the West-Southwest (232.5º – 247.5º) of the home